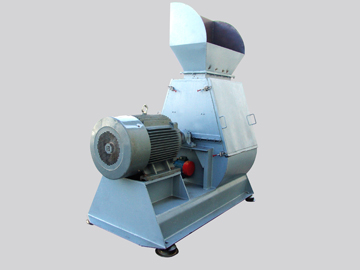 LHO Hammer Mill

Working Principle of LHO Hammer Mill
1. Feeding and Grinding: Through the top-installed feeding hole, materials are fed into the milling chamber with speed-adjustable rotors, on which detachable hammers of high hardness are mounted. After the feeding process, materials can be ground into powders by the impact force, shear force, and friction force generated between the hammers and materials.
2. Classification: The screen plate is installed at the bottom of milling chamber. With the support of tightened-spring bracket, the sifter can be adapted to various types of screening.
3. Collection: After the feeding and screening process, the milled materials can be collected by the collection system.

Features of LHO Hammer Mill
LHO hammer mill is our newly developed grinding equipment and its technical performance has reached international advanced level.
1. Waterdrop-shaped grinding chamber, concealed rotor, secondary grinding design, greatly improving the grinding capacity and the degree of uniformity for the particle size.
2. Our LHO hammer mill optimizes the array of hammers. The coarse or fine grinding can be realized by adjusting the space between the hammer and sifter, thus one machine can be used as two. Due to different production needs, the space between the hammer and sifter can be adjusted with a range of 8 ~ -8mm. In the production of conventional livestock feed (with screen size 2.0 ~ 4.0 mm), you can choose to run this hammer mill with a space of 4.0 ~ 6.0 mm. While in the production of suckling pig or fish feed (with screen size 0.8 ~ 1.2 mm), you can choose 1.0 ~ 3.0 mm to run this machine. Under such operations, you can both obtain high output and the appropriate grinding fineness.
3. The screening mechanism is designed with tightened-spring, so that the screening process can be finished with one step instead of two or more steps, thus leaving the grinding chamber work in full closed state.  
4. The hammer and sifter adjustment device is placed outside the machine body, so you can realize the adjustment without stop running the machine, which will bring you great security.
5. The tightened-spring bracket makes the replacement of screen plate more efficient and reliable in comparison with other hammer mill. This bracket is adaptive to screen plate of different thickness.
6. Undergoing rigorous dynamic balancing test, the rotor can ensure smooth operation of the hammer mill. This rotor can also lower the wear of bearings, hammer frame plate, and other spare parts, thus reducing the maintenance frequency and increasing production capacity as well as service life.
7. Full-QSP-style access door brings the user with easy operation and low maintenance cost. 8. Our LHO hammer mill has the characteristics of high-performance, wide application, and stable operation.

Applications of LHO Hammer Mill
Our LHO hammer mill is an ideal piece of milling equipment for grinding dried potato, corn, sorghum and other fermented feed, as well as plant root, stem, leaf, food starch, chemicals, etc. This type of hammer mill is especially suitable for small, medium and large-sized feed mills to produce high-grade livestock feed and aquatic feed.

Process Flow of LHO Hammer Mill
Flow Chart I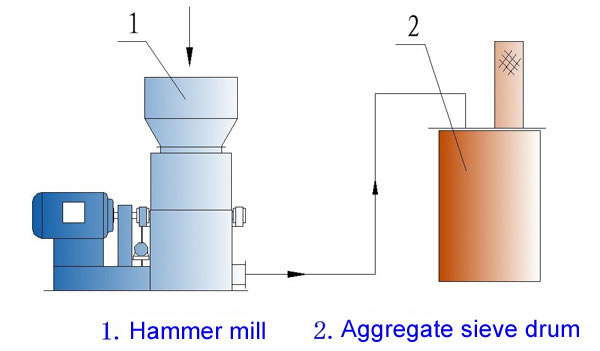 Flow Chart II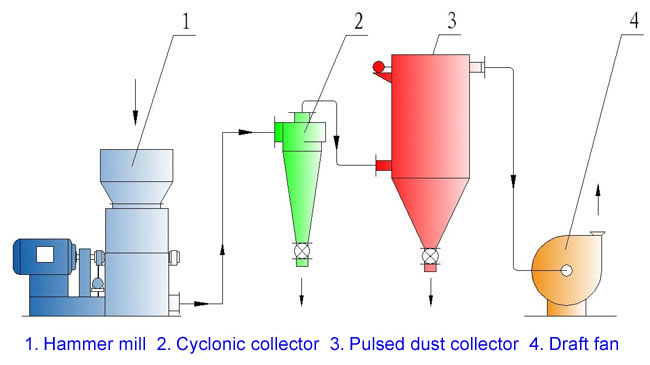 Technical Parameters of LHO Hammer Mill
| | | | | | |
| --- | --- | --- | --- | --- | --- |
| Model /Technical specifications | LHO-36 | LHO-50 | LHO-75 | LHO-102 | LHO-125 |
| Output (t/h) | 12~22 | 25~35 | 38~50 | 52~65 | 65~80 |
| Power(kw) | 75/90/110 | 110/132/160 | 200/220/250 | 250/315/355 | 355/400/450 |
>> Application Examples